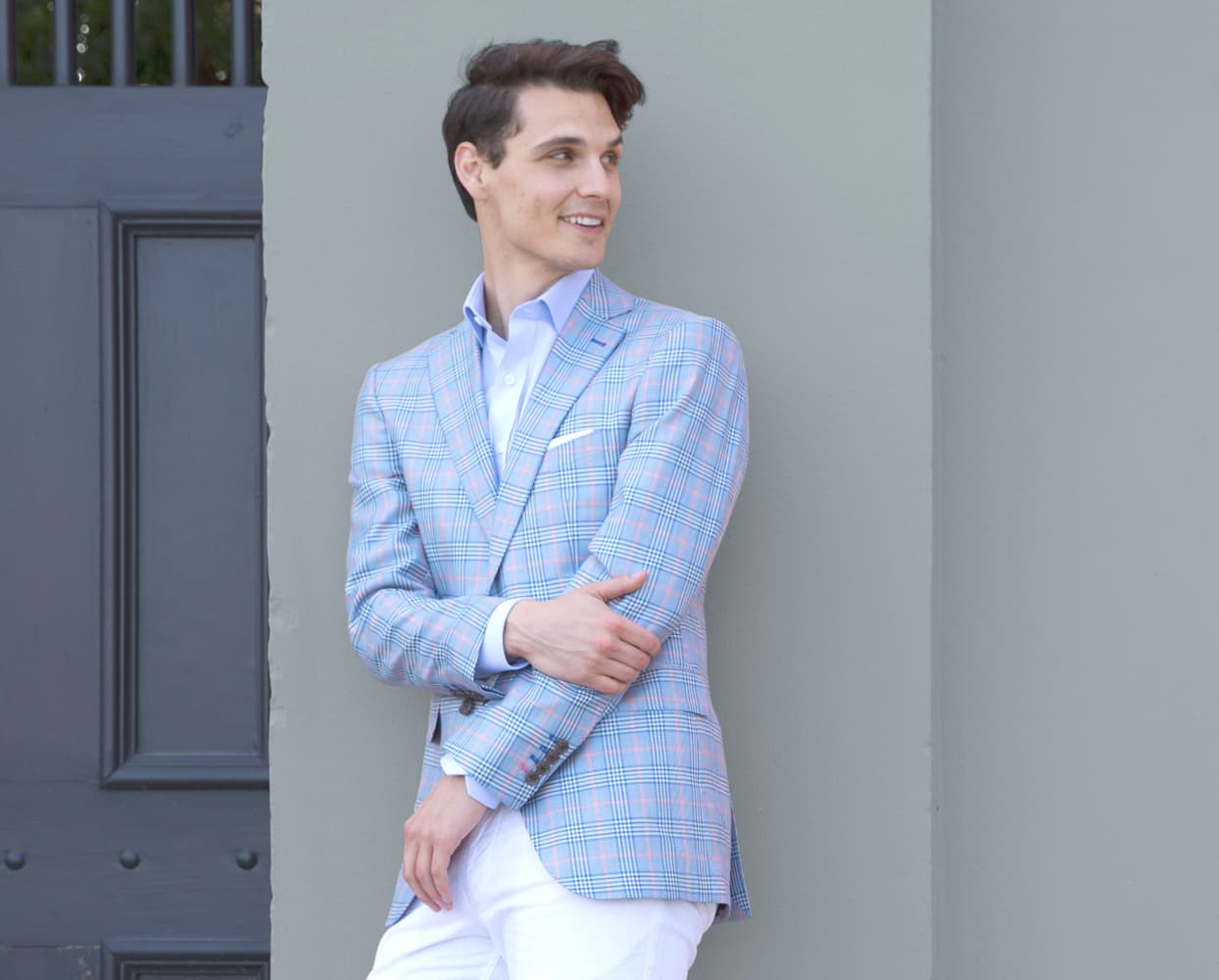 Frequently Asked Questions
Please see below for the answers to the most frequently asked questions. If you do not find your answer below, please don't hesitate to reach out to us.
CONTACT US
GENERAL
WHAT IS BESPOKE CLOTHING?
The term "bespoke," dating back to 18th-century England, literally meant that a selection of fabric was 'bespoken for' a customer. Today, the term refers to a garment that is custom made for a customer without the use of a pre-existing pattern. At Alton Lane, we begin cutting the fabric for your garment only once your order is placed and your specific measurements are confirmed.
CAN YOU OFFER ADVICE ABOUT THE BEST SUIT FOR ME?
We know you have style, but it is always nice to have help with the latest sartorial trends. That's where we love to assist: drop our style team a line with whatever questions you have and we'll get back to you within 24 hours. customerservice@altonlane.com
CAN I SEE A SAMPLE OF YOUR MATERIAL?
Given the high cost of fabric, it isn't feasible at this time for our mills to send us individual samples. We are working hard to figure out how to make this possible for our customers. But in the meantime, we've invested in top of the line, high-resolution scanners to provide crisp detailed images of all of our fabrics.

Alton Lane works only with the highest quality imported wools, linens, cashmere and Egyptian, Pima, and Sea Island cottons. Whatever you order, you can rest assured it will look and feel great. If you are ever near one of our showrooms, please feel free to book a private appointment, where you can feel all of our fabrics.
HOW DO I SUBMIT MY OWN MEASUREMENTS?
Here at Alton Lane, our method of measuring is quite unique to our process, so please be sure to follow our Measurement Guide as closely as possible. Our level of accuracy is directly related to the information you provide and the measurements you submit. Please understand that while we cannot be held liable for personal measurement errors, we remain committed to all of our customers and will always offer to share in the cost of a remake, if one is requested.
IS IT POSSIBLE TO PURCHASE JUST A PAIR OF TROUSERS, A WAISTCOAT OR A JACKET?
There are a lot of custom clothiers out there that offer only package deals or have minimum orders. At Alton Lane we appreciate that sometimes all you need is an extra shirt or blazer. As such, all of our clothing can be ordered individually.
Do you serve alcohol at your showrooms?
Regulations on serving alcohol vary state to state. We are committed to adhering to each state's regulations and only serve in our showroom locations that are permitted to do so.
TRANSACTIONS
HOW CAN I PAY FOR MY ORDER?
Alton Lane accepts all major credit cards. Please note that all orders will be processed once payment is received.
HOW CAN I TRUST MY CREDIT CARD TRANSACTION IS SAFE?
All of our transactions are completed with a secure SSL encrypted credit card processor, which ensures that all of your information stays private and secure.
WHAT IS YOUR REFUND POLICY?
Because each one of our garments is custom made specifically for you, we cannot offer full refunds. However, we are 100% committed to working with you until you are fully satisfied. However, all ties and pocket squares can be returned for a full refund within 14 days of purchase as long as they have not been worn and with a valid receipt.
WHAT IS YOUR PRIVACY POLICY?
Your privacy is important to us at Alton Lane. We protect your information so that we can best meet your needs and make your shopping experience as convenient as possible every time you come back to Alton Lane. We will never sell any of your personal information to a third party. View Privacy Policy.
DO YOU SERVE CUSTOMERS WITH DISABILITIES?
It is our mission to provide excellent service to all customers, past, present, and future. If you live with a disability (visual or physical impairments) that makes visiting our showrooms or browsing our website difficult, we are happy to offer concierge service to suit your needs. Please call our Customer Experience team at (888) 800-8616, email customerservice@altonlane.com, or send us a note to 3121 W. Leigh St., Richmond, VA 23230.
ORDERS
CAN I MAKE CHANGES TO MY ORDER?
The specifications of your order can be viewed by logging into your Alton Lane online account. Please feel free to contact customerservice@altonlane.com or (888) 800-8616 for any changes to be applied. If we do not hear from you within 24 hours, the details of your order will be officially confirmed.

While fabrics are unable to be changed after an order is placed, customization options can be changed within 24 hours of the time of purchase with our Customer Experience team.
What shipping options do you offer?
Alton Lane calculates ground service shipping on your order in the following way: "Per Shipment" Cost + "Per Item" Cost = Total Shipping Cost.
PER SHIPMENT COST
Round 1 or Non-custom: $10
Round 2 (if applicable): $8
PER ITEM COST
Blazer, Trouser, Shirt, Tie: $3
Suit, Tuxedo, Overcoat: $5
Effective as of February 1, 2012
WHAT IF I WANT ALTERATIONS?
We understand that personal preference is a great component of style. For your alterations, simply take your garment to any local tailor with our Alterations Form and have your adjustments made. Once your tailor has completely filled out the alterations form, please e-mail us the form along with your receipt to alterations@altonlane.com.

We will reimburse 120% of any alterations you make up to $100, in the form of credit to your account at altonlane.com. Alteration credits are available within 30 days of receipt of your garment and can only be processed with a completed alterations form and receipt from your local tailor. Ensure that your tailor notes all adjustments made to your garment so that we may update your profile and process your credit. Alterations to previously approved garments will not be covered under this policy. Only the adjustments to the first type of each garment will be reimbursed.

Each one of our garments is custom made specifically for you. While we cannot offer full refunds we are 100% committed to working with you until you are fully satisfied. In the event that your local tailor is unable to alter your garments to meet your preferences, please note the reasons on your alteration form and send it to us along with photos of yourself in the garment. This will allow one of our fit specialists to assess the current fit and advise on appropriate next best steps. Recommendations may include in house tailoring by our master tailor or a re-make at no additional cost to you.
HOW LONG WILL IT TAKE TO GET MY SUIT?
Because each garment is made specifically for you, ordering custom clothing is not an overnight process. Many other custom clothiers give a delivery time of 6-8 weeks for their clothes. That seems too long to us. We work hard to do everything we can to deliver your clothes within 4-6 weeks of placing your order. While this is not always possible, we strive daily to hit this goal. In select situations, it may be possible to further expedite your order for an additional fee. For events and occasions, please be sure to place your order 8-10 weeks in advance, as delivery timelines may fluctuate throughout the year.
WHAT IF MY GARMENTS ARE DAMAGED?
Upon arrival, please inspect your garments carefully and report any damages to the Alton Lane Customer Experience Team within seven days. While we offer only the finest fabrics in the world, to ensure the highest quality garments possible, we cannot be held liable for damages caused by personal wear. Additionally, we recommend that you purchase an extra pair of trousers for each suit purchase to increase longevity!
GIFT CERTIFICATES
CAN GIFT CERTIFICATES BE RETURNED?
Alton Lane gift certificates are not redeemable for cash and cannot be returned for a cash refund. Remaining balances on gift card purchases will remain available for future purchases under the same gift card number. Review your current balance at any time in your 'My Account' page.
REFER A FRIEND
ALTON LANE REFER-A-FRIEND PROGRAM TERMS AND CONDITIONS
As a Refer-a-Friend member (a "Referrer"), you are subject to Alton Lane's Terms of Use and Alton Lane's Privacy Policy (both available on our website), as well as the following additional Terms & Conditions for Alton Lane's Refer-a-Friend program:
A Qualified Referral is defined as a purchase made at www.altonlane.com by a person (a "Referred Customer") who arrives to our website by clicking your Refer-a-Friend program link. You are limited to one Qualified Referral for each Referred Customer; in other words, additional/repeat purchases made by a Referred Customer are not counted as additional Qualified Referrals.
The Referred Customer and the Referrer cannot be the same person (for example, by using a different email address).
For you to earn referral rewards as a Referrer, the Referred Customer must complete an order greater than $150 in total value, minus all fees including taxes, discounts, shipping, returns, chargebacks, fraudulent payments, and/or other 3rd party fees.
Rewards are payable in increments of $100. The maximum Qualified Referrals earned per calendar year may be no more than 50 Qualified Referrals. As a Referrer, you are responsible for any and all tax liability resulting from Referral Rewards.
Eligibility is limited to individuals only. Alton Lane's Refer-a-Friend Program cannot be used by businesses for affiliate lead generation as determined in Alton Lane's sole discretion.
You must comply with all up-to-date "SPAM" laws. For example, emails must be created and distributed in a personal manner and bulk email distribution is strongly discouraged. Any distribution of your referral link that could constitute unsolicited commercial email or "spam" under any applicable law or regulation is expressly prohibited and will be grounds for immediate termination of your account and exclusion from Alton Lane's Refer-a-Friend program.
Alton Lane reserves the right to cancel the Refer-a-Friend Program or to change these Terms & Conditions at any time in its sole discretion. Any unclaimed referral rewards will be forfeited at that time.
Find Your Perfect Fit
Book an appointment in one of our showrooms and let our team of style experts help you find your perfect fit.
BOOK APPOINTMENT